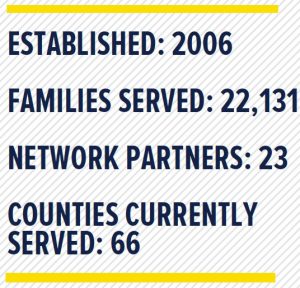 Nine out of 10 women in the Texas Nurse-Family Partnership program have delivered their first baby full-term and at a healthy weight. These results and others show that this proven program is helping vulnerable Texas families get off to a good start.
In 2006, The Dallas Foundation and TexProtects were instrumental in bringing the first Nurse-Family Partnership to Texas at the YWCA of Metropolitan Dallas. In 2007, the Texas legislature established a statewide grant program that has resulted in Nurse-Family Partnership programs in 28 counties.
Over 40 years of evidence show the measurable, long-lasting difference Nurse-Family Partnership makes in the lives of moms and their children. Meet NFP moms and nurses in our video.
When Mark started texting and calling Melony, she thought: "He isn't going to want to be with me, because I am pregnant. But he said to me, 'I don't care what people say. I want to be with you. I want to help you and your baby."
Click here to learn more about bringing Nurse-Family Partnership to your community.