Nurse-Family Partnership Receives $2.889 Million from the 2019 Legislative Session
We are thrilled that Texas legislators value Nurse-Family Partnership and demonstrated their commitment to our work by securing an additional $2.889 million to serve more moms and babies during the 2019 legislative session that ended on May 27th.  Thank you to everyone who joined us in our education and advocacy efforts to share more about why Nurse-Family Partnership is important in Texas.
There were some other exciting wins for children and families in Texas including:
Funding for full day pre-k for low income families
School finance reform that includes raises for teachers, librarians, nurses and counselors
Integration of trauma informed practices into the school environment, including policies to address staff and parental awareness of the impact of trauma and the implementation of trauma informed practices.
State strategic plan to improve coordination and effectiveness of services for children at risk of entering foster care by leveraging Family First Prevention Services Act federal funds, integrating trauma informed mental health, substance use, and in-home parent programs.
Some of the other key issues that we were tracking this session did not move forward including extended Medicaid coverage to 12 months post-partum for women who give birth and continuous eligibility for CHIP health insurance for children and strategies to prevent and mitigate adverse childhood experiences.
Sign Up to Be a Local NFP Champion
We will need to continue to educate and advocate for Nurse-Family Partnership throughout the interim and among Congressional Members.  If you or someone in your community is interested in becoming more involved with our advocacy efforts, please consider signing up as a Local NFP Champion (http://bit.ly/2KodW5E).
WE'VE SURPASSED OUR 2019 ENROLLMENT GOAL!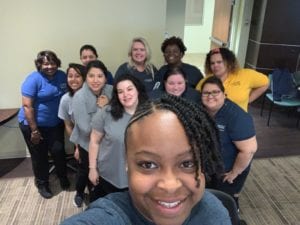 As part of our national efforts to reach 100,000 moms by 2023, this year, we set a goal to have 3,212 moms enrolled in Nurse-Family Partnership in Texas on December 31st, 2019.  As of April 30th, we had 3,293 moms enrolled!  Thank you to all the nurses, supervisors, and administrators who have helped to serve more families.  We also want to thank our National Service Office Outreach Team including our Regional Outreach Supervisor Melody Edwards and her team of Regional Outreach Coordinators; Beatriz Sierra, DeVine Williams, Sylvia Lopez, and Yisel Montemayor.  If your team needs more referrals or other assistance from our Outreach Team, please contact Melody Edwards at melody.edwards@nursefamilypartnership.org
How to Avoid the Summertime Slump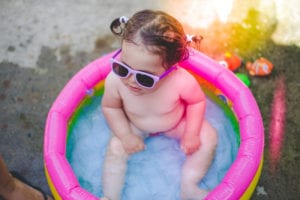 Every year during the hot summers in Texas, our client enrollment drops across the state as families and nurses take vacations and a break from their regular routines.  Summertime is a great time to try new ways to reach your clients.  Have an ice cream social, show a kid-friendly movie at the park after dark, or work with a local pool to offer a mom and baby swim class.  Plan a home visit play day with moms of infants and toddlers and bring cheap fun activities to set up with a PIPE lesson on "You are Your child's first Teacher." Take photos and offer to bring them the prints on the next visit and get an extra copy to make a summer photo scrap book among your team of nurses, capturing their moms and babies playing. Offer to make inexpensive toys and set client goals on how to play with babies & toddlers. Always promote safety during the summer.
Consider offering up telehealth this summer for families on the go. Also, adjust the visit schedule to meet client needs and desires by offering a reduced visitation schedule for lower risk families that are managing well and an increased visit schedule for families with higher risks and/or struggling will align with many families' needs for services. Many clients are in school and work, which makes frequent visitation difficult. Currently, families choose to leave the program early because they are too busy to remain in the program with the standard visitation schedule or they believe that they have received the benefits of the program prior to child age two years. Retain these lower risk families in the program with a reduced visitation schedule that is designed to align with families' needs and abilities to participate. This can help to retain families, rather than having them leave early, as all families can benefit from the support and guidance of the nurse around the promotion of child health and development.
Disaster Preparedness
Spring and summer bring severe thunderstorms, flash flooding, and tornadoes.  Hurricane season also started June 1st.  Does your organization have an emergency operation plan to keep in touch with your staff and the families we serve?  Now is a great time to work with your families to prepare for an emergency "just in case." Pregnant women and young children can be particularly vulnerable during disasters.  Check out the CDC website for Disaster Safety for Expecting and New Parents https://www.cdc.gov/features/disaster-planning-parents/index.html or visit www.ready.gov for more information and checklists!
Texas Mom Recruitment Video Now Available in Spanish!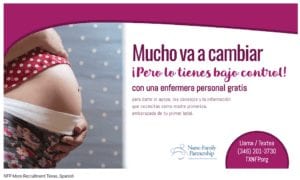 This animated mom recruitment video is a great tool to use on social media and on your phone when you are out at events talking to potential moms. The video has been customized for Texas with the Texas phone number and website url. You can find the video on YouTube with this link!
2019 Texas Conference – A Success!
Thank you to all who participated in the 2019 Texas Nurse-Family Partnership Conference: Riding the Wave of Nursing Excellence in Galveston!  We had a great time rolling out the new Goal Mama app for moms, learning new information about women and children's health, and celebrating Nurses Week.  Check out our pictures at https://www.nursefamilypartnership.org/tx-nfp/save-the-date/. Check back by the end of June to view the presentations from the session.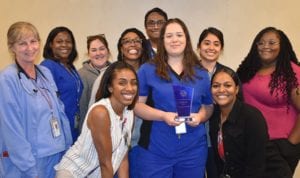 Tina Rangel Receives Texas Caregiver of the Year Award!
The Texas Caregiver of the Year exemplifies the mission and vision of Nurse Family Partnership by bringing their expert care to the table and blending it with the expertise of the mom to support the mom in accomplishing her heart's desire, following the five client centered principles, bringing passion and excellence to the nursing practice and practicing and encouraging self-care.
Tina Rangel from the Tarrant County Department of Public Health won this year's award for going above and beyond to meet the needs of her clients.  She also received the Tarrant County Public Health Nurse of the Year Award!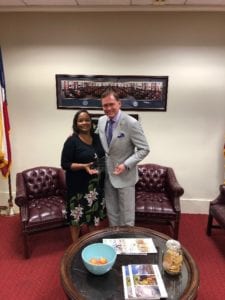 Representative John Zerwas Receives National "Force for Public Good" Award
During the 2019 Conference, the Nurse-Family Partnership National Service Office recognized Representative John Zerwas with the national "Force for Public Good" Award.  Dr. Zerwas has been a physician in the Houston area for more than 30 years and is serving his seventh term in the Texas House of Representatives where he is chair of the Appropriations Committee.  He represents District 28, which includes Fort Bend County, one of the fastest growing areas in the state.  Representative Zerwas has been a long-time supporter of Nurse-Family Partnership and has helped to secure additional funding to serve more moms and babies in Texas.  "Nurse-Family Partnership is one of the proven ways to help young moms establish themselves and prevent child abuse," he said.
Cheryl Weise, Texas Community Champion!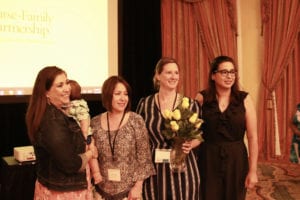 Every Nurse-Family Partnership team's success depends on the communities where we work for their support to refer moms and offer the resources and supports to moms and families that go beyond the needs of a nurse and her client.  NFP Community Champions can be volunteers, advocates, program staff, administrators, Community Advisory Board members, or other individuals from your community who believe in the mission and vision of Nurse-Family Partnership and have demonstrated extraordinary leadership and support for Nurse-Family Partnership in your community.
Cheryl Weise started out as a Nurse Home Visitor at The Children's Shelter NFP program in 2009. She became a well-respected leader among her peers and loved by her clients. Cheryl stepped up into the role of Nurse Supervisor in 2011. Cheryl became an active NFP advocate by joining various community initiatives where potential and current NFP clients could benefit from services. Cheryl retired from her supervisory role in 2016 after the passing of her husband. However, Cheryl continued to volunteer at The Children's Shelter NFP. She continued to take an active role of advocating for NFP by becoming a member of Bexar County's NFP Community Advisory Board and eventually the Chair of the Board.  Cheryl joined the Texas State Advisory Board in 2018. We are pleased to acknowledge Cheryl Weise as our Texas Community Champion!
Sock Puppet Challenge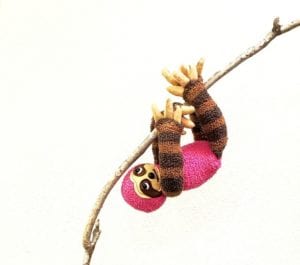 Meet Slolita! The Baylor Scott and White team in Waco chose a sloth as a representation of both our nurses and moms. Sloths are slow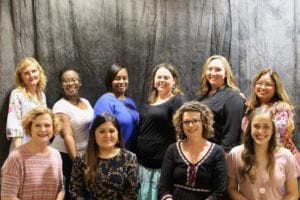 and steady in reaching their objectives. We know that goals take time, and patience is always required. Sloth babies stay close to their mom after birth, learning mostly through imitation. NFP moms know the importance of the example they are to their babies! Most importantly, sloths are deliberate in each movement they make. In the sacred time of pregnancy, childbirth, and raising their first child, moms have so many important decisions to make for themselves and for their child. We believe in supporting our moms in those decisions with deliberate thought and evidence based knowledge.