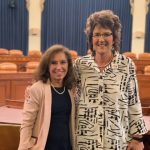 It is with great sadness that the National Service Office for Nurse Family Partnership and Child First gives condolences to the families of Congresswoman Jackie Walorski and her staff Emma Thomson and Zachary Potts for their tragic passing. Congresswoman Walorski has been a long-standing champion for children and families and the National Service Office was honored to work side by side with her on the reauthorization of the Maternal, Infant and Early Childhood Home Visiting program (MIECHV). Our thoughts are with everyone affected by this devastating accident.
POSITION STATEMENT: SCOTUS DECISION ON ROE V. WADE
The National Service Office for Nurse-Family Partnership and Child First is committed to supporting the families and communities we serve—the Supreme Court ruling on Dobbs v Jackson Women's Health does not change what we do or how we implement our programs. Our network partners and affiliate agencies will continue serving families by meeting them where they are, including supporting personal decisions on healthcare and family planning.
We believe families are the experts in their own lives and that belief is central to our program models. As always, our focus is on the health and well-being of the families we serve and working collaboratively with our local partners to ensure equitable access to resources. We know that families across the country need support from trusted healthcare professionals and we strive to be that support by implementing programs as we always have.
The Supreme Court ruling will undoubtedly change the healthcare landscape across the country, and we are continuing to assess how those changes will impact Nurse- Family Partnership and Child First programs, the families we serve and the workforce that supports them. We will continue to monitor federal and state policies to gain a better understanding of the impacts of this decision and future developments on our families and workforce. In the coming weeks, we will re- evaluate our level of involvement and advocacy by prioritizing their health care needs while protecting clinical providers' scope of practice and model fidelity.
Latest Public Policy Updates
---
2021 NATIONAL PUBLIC POLICY PRIORITIES  
Each year, the National Service Office for Nurse Family Partnership and Child First Policy & Government Affairs Team makes ambitious public policy goals to sustain and expand protections and opportunities for NFP families, and this year is no exception. In 2021, NFP aims to:
Mitigate challenges with effective services during the covid-19 pandemic

Advance equity and economic mobility for families

Improve, protect, and sustain funding streams

Improve medicaid coverage and health systems integration

Address disparities in maternal health

Expand and improve mental health services for families

Provide opportunities to diversify and support our clinical workforce

Promote investments and innovations for primary prevention and proven programs
Click here to read more about the NSO's 2021 public policy priorities.
---
2021 Federal legislative Agenda
Click here to read more about the NSO's 2021 Legislative Agenda. 
---
PUBLIC POLICY PRIORITIES IN RESPONSE TO COVID-19
As a public health program, Nurse-Family Partnership and our nurses are already on the front lines of responding to COVID-19. We have amended our policy priorities to reflect both the programmatic flexibilities that are needed to continue to deliver NFP to moms who need it, but also the healthcare and social services that will be required to meet their heightened needs during this time. In addition to the 2021 public policy priorities listed above, NFP  will:
Prioritize a one-time $100 million appropriation for MIECHV that can be used to train home visitors to deliver services through technology that enables home visits from a distance, as well as tangible needs for families including technology, formula, diapers, etc. 

 
Maintain all funding for and staffing levels of MIECHV programs regardless of potential temporary reductions in enrollment in order to maintain existing infrastructu

re

 
Support legislation that acknowledges the critical care nurses provide 

to families nationwide, including 

H.R. 6720, the Student Loan Forgiveness for Frontline Health Workers Act

 and 

H.R. 6578, the Public Health Workforce Loan Repayment Act

 
Promote

 telehealth and

 innovative policies that support 

evidence-based 

programs that work

 
Support 

efforts to expand wireless coverage for low-income families and expand broadband connectivity

 
Click here to read more about NFP's policy priorities in response to COVID-19.