2022 Tenacious Caregiver AwardS
This year, we again have three nomination categories: NFP Nurse, Nurse Supervisor and Administrator and the NSO will be choosing the top performing site based on fidelity to the model and outcomes.
The winning NFP Nurse, Nurse Supervisor and Administrator/Program Manager will receive their registration fees to the RE:ignite 2022 (ie. the virtual National Symposium), paid for by the NSO, and will receive other prizes. The winning Network Partner will have up to 8 registration fees paid by the NSO and also other prizes.
Nominations closed on June 15, 2022. Stay tuned for the announcement of the four winners at RE:ignite 2022 in September!
The Tenacious Caregiver Awards recognize professionals who have displayed outstanding commitment to delivering the Nurse-Family Partnership model with fidelity, achieved outstanding performance and outcomes for families, and served their clients and community with heart and tenacity.
---
2021 Tenacious Caregivers Winners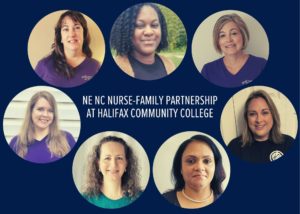 Network Partner: Northeastern North Carolina NFP at Halifax Community College
The Halifax team has been a leader in the field, maintaining fidelity to the model and achieving exceptional outcomes for the families they serve. Their nurses have worked hard to increase their caseloads. Even in the face of the challenges brought on by the COVID-19 pandemic, they are operating well above full capacity. The Halifax team has been also extremely innovative and creative, especially during the pandemic, to keep clients engaged. They have conducted virtual pop-up events for their referral partners, and have maintained a very engaged community advisory board, who conducted a diaper drive for clients during the pandemic.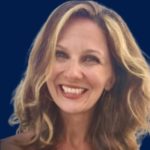 Administrator: Robin Bailey Callahan – Eastern Band of Cherokee Indians
This award speaks to the incredible work that Robin has done leading the agency at the Eastern Band of Cherokee Indians, supporting her nurses and supervisor on the team, and going above and beyond to provide extra support and resources to families. She has built strong connections in the community to grow support for NFP. This is especially evident in the strength of their community advisory board and the strong relationships she has built with the tribal council.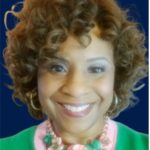 Nurse Supervisor: Stephannie Cooper Senegal – Wake County NFP
Stephannie received an impressive five nominations for this year's award – which speaks to the hard-working, caring and compassionate supervisor that she is. We were impressed by the stories we heard of Stephannie supporting the needs and wellbeing of her team, especially in light of the challenges of the pandemic. She demonstrates what it means to be a strong leader, which is evident in the impressive outcomes that her team has consistently achieved.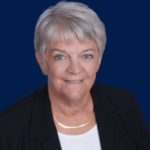 NFP Nurse: Julie Ackerman – Boulder County NFP
Julie has been an NFP Nurse for seven years. She has completed nearly 4,000 visits and has supported 53 moms in graduating from NFP. Julie has supported her clients to find their own solutions and be empowered to make lasting change in their lives. Julie truly exemplifies what it means to be an NFP nurse!
---
2019 Tenacious Caregiver Winners
The four awards were presented at the 2019 National Symposium in Nashville, Tennessee in September, 2019. We had an amazing group of nominees in each category. The winners are: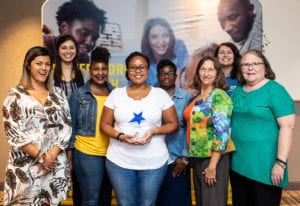 Network Partner: Care Ring NFP – Mecklenburg County, North Carolina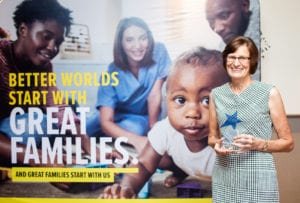 Administrator: Patricia Yoder – NFP of Chester County, Pennsylvania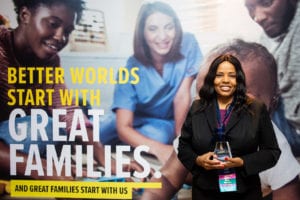 Nurse Supervisor: Manoucheka Chery – NFP Broward Regional Health Planning Council, Florida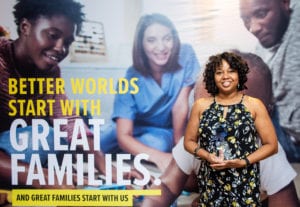 NFP Nurse: Keisha Lucas – NFP of Forsyth County, North Carolina
---
2018 tenacious caregiver award RECIPIENT
We received inspiring and compelling stories and were honored to present the inaugural award to Cheryl Spicer, NFP Nurse at Sadler Health Center Nurse-Family Partnership in Carlisle, PA.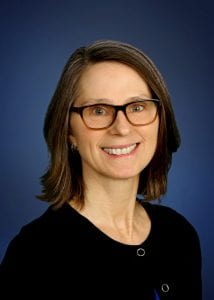 Cheryl not only consistently carries a full caseload and has been a nurse home visitor for eleven years, but she hosted numerous nursing students for one-day shadowing experiences and even mentored one of them for 120 hours. She has completed over 4,000 home visits, over 5,000 hours of face to face time with
Nurse-Family Partnership moms and 26,000 lonely miles driving to and from home visits. She is compassionate and empowering, and epitomizes the Nurse-Family Partnership mission in more ways that we can articulate. Congratulations and THANK YOU for all you do for our families!