Tenacious Caregiver AwardS

2023 Nominations Are CLOSED
Nominations for 2023 awards are now closed. Winners will be announced at the National Symposium in September.
About the Award:
The Tenacious Caregiver Award recognizes professionals in the Nurse-Family Partnership community who exemplify an extraordinary commitment to the NFP model and families.
Awardees are nominated by their peers, colleagues or agency leadership, and winners are selected by National Service Office leaders based on demonstrated dedication to the NFP program and families, as well as overall performance in delivering the model and supporting life-changing outcomes.
Each year, awardees are recognized in five categories:
NFP Nurse, recognizing an NFP nurse who exemplifies the model's client-centered principles and brings passion and excellence to their nursing practice.
Nurse Supervisor, recognizing an outstanding team leader who goes above and beyond to support their team's wellbeing, professional development and impact.
Administrator, recognizing a Network Partner leader who advocates for Nurse-Family Partnership in their community and supports high performance from their team.
NFP Support Staff (new in 2023!), recognizing a professional who supports innovation and impact at their site by providing programmatic, data and other vital support services.
Network Partner, recognizing a top-performing Nurse-Family Partnership site that has excelled in implementing the program and supporting impact for families. This partner pursues collaboration in their community, is a leader in innovation and stands as an example across the Nurse-Family Partnership network.
Winners are announced and celebrated at the National Service Office's National Symposium each year.
---
2022 Tenacious Caregivers Winners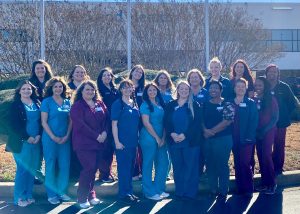 Network Partner: McLeod Health in SC
With seven hospitals, McLeod Health is composed of approximately 15,000 staff and more than 90 physician practices throughout its 18-county service area. The system currently has 988 licensed beds, including Hospice and Behavioral Health. The McLeod Health team has been implementing Nurse-Family Partnership in SC since 2014. They have been a consistent and high-achieving partner to the National Service Office – maintaining high operating performance, fidelity to the model and delivering life-changing outcomes to SC families. The team at McLeod Health has been willing to go above and beyond to advance the goals and mission of Nurse-Family Partnership.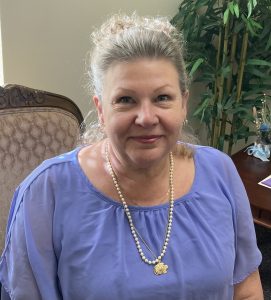 Administrator: Lisa Ritchey, BSN, RN, Director of Nurse-Family Partnership at UPMC Home Healthcare of Central PA
Ritchey has dedicated more than 20 years of service to Nurse-Family Partnership during her 40-year nursing career. Ritchey has been a steadfast advocate for NFP in her community and beyond – from using her voice to push for new funding streams, to leading her team's participation in several pilots with the National Service Office (NSO) to innovate and improve the collective impact. She is dedicated to empowering first-time families to succeed and has presented NFP to various human service providers across the region.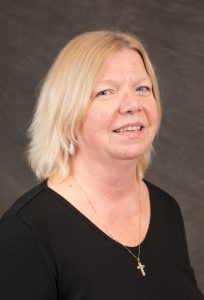 Nurse Supervisor: Lynn Lauri, BSN, RN, from Maternal & Family Health Services in PA
Lynn's 40-year nursing career includes 20 years at Nurse-Family Partnership, where she has served as Nurse Supervisor for two years. Lauri's personal goal is to change the future, one baby at a time. Lauri has proudly served 270 NFP families over the years. Even when her team doubled in size last year, Lauri never faltered in her support of her team's professional development, self-care and reflective practice.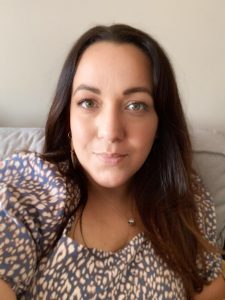 NFP Nurse: Maria Otero, RN, of Brooklyn Nurse-Family Partnership at SCO Family of Services in NY
Otero has dedicated 14 years of service to Nurse-Family Partnership. Her consistent performance – from her strong caseload to her retention of clients – shows her passion and dedication for bringing excellence to the nursing profession. It's clear that Otero embodies NFP's values. Most importantly, she is a steadfast advocate for her clients, who often feel unheard or ignored by the healthcare system.
---
2021 Tenacious Caregivers Winners
Network Partner: Northeastern North Carolina NFP at Halifax Community College
Administrator: Robin Bailey Callahan – Eastern Band of Cherokee Indians
Nurse Supervisor: Stephannie Cooper Senegal – Wake County NFP
NFP Nurse: Julie Ackerman – Boulder County NFP
---
2019 Tenacious Caregiver Winners
The four awards were presented at the 2019 National Symposium in Nashville, Tennessee in September, 2019. We had an amazing group of nominees in each category. The winners are:
Network Partner: Care Ring NFP – Mecklenburg County, North Carolina
Administrator: Patricia Yoder – NFP of Chester County, Pennsylvania
Nurse Supervisor: Manoucheka Chery – NFP Broward Regional Health Planning Council, Florida
NFP Nurse: Keisha Lucas – NFP of Forsyth County, North Carolina
---
2018 tenacious caregiver award RECIPIENT
We received inspiring and compelling stories and were honored to present the inaugural award to Cheryl Spicer, NFP Nurse at Sadler Health Center Nurse-Family Partnership in Carlisle, PA.