Public Charge
On August 14, 2019 the Department of Homeland Security published a new rule that would vastly expand the federal government's ability to bar an immigrant from obtaining legal status in the United States by expanding the definition of who is considered a "public charge."   Nurse-Family Partnership National Service Office opposes this rule, which is set to go into effect on October 15, 2019 because it could have a chilling effect on families' ability to seek needed health and social services.  You can read our statement from Nurse-Family Partnership in English and Spanish. This statement also includes links to helpful resources, which are available in additional languages to use when working with families who have may mixed immigration status.
Back to School Tips for Enrolling Pregnant Teens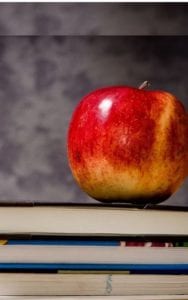 School is back in session and it's a perfect time to reach out to your area school districts to share more information about Nurse-Family Partnership for teens who are pregnant.  Every school in Texas can decide how to offer services to pregnant and parenting teens on a school by school basis.  To reach out to schools, you may want to ask for a meeting with the Area Superintendent and Principal to share overview information about Nurse-Family Partnership.  Once you have buy-in from school leadership, you can follow up with the school nurse and/or counselor including a flyer and referral form.  Some schools are also willing to enter into MOUs that will allow nurses on your team to see pregnant teens during school hours during an elective or lunch period. In addition, there is at least one school district in Texas that is offering high school credit for teens who participate in Nurse-Family Partnership.  If you need additional support to reach out to schools, please reach out to Kim Griffin at kim.griffin@nursefamilypartnership.org.
Schools are required to follow federal Title IX law to ensure that pregnant teens can fully participate in educational and extracurricular activities unless otherwise indicated by their physicians. You can learn more about the rights and responsibilities for students who are pregnant by visiting the Texas Association of School Boards website at https://www.tasb.org/services/legal-services/tasb-school-law-esource/students/documents/serving_pregnant_and_parenting_students_dec13.pdf.
The Texas Education Agency also has resources about pregnancy related services at https://tea.texas.gov/Texas_Schools/Safe_and_Healthy_Schools/Pregnancy_Related_Services/Pregnancy_Related_Services.
UT Health Science Center at Tyler Hosts  Its First Graduation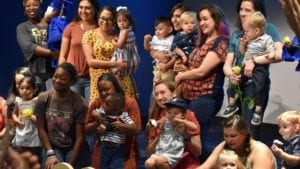 Nearly 80 joined in support as the University of Texas Health Science Center at Tyler's Nurse-Family Partnership (NFP) hosted their inaugural graduation on Tuesday, August 6, 2019, to recognize 17 mothers and their toddlers who took part in the program. Hosted at the Tyler Public Library, moms brought their families for a time of celebration and learning as Ms. Amy shared about the importance of daily reading to children and Mr. Stephan shared best practices to reading to young children through "Toddler Story Time."  The event included professional photos, refreshments, and library tour, which included the opportunity for families to become comfortable with the library setting and sign-up for a library card.
Houston NFP Teams Celebrate 10 Years!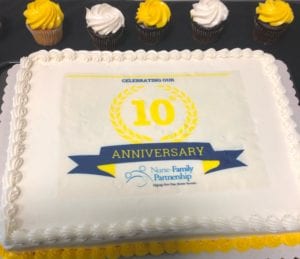 On August 8, 2019 Texas Children's Health Plan along with The City of Houston Health Department and Baylor Teen Clinic hosted a celebration at the United Way to recognize ten years of service for the Nurse Family Partnership in Houston. Nurses in this program partner with families in their homes, for over two years focusing on maternal and child health, emotional well-being, developmental milestones, school readiness, resource and care coordination, parenting and family dynamics, accessing appropriate levels of care, workforce participation and so much more. In that time period, collectively, the Houston programs have completed 55,475 visits, served 2,465 mothers and 1,779 children.
Of more than 75 in attendance, Community and Program leaders as well as State Representatives and one Congressional leader were present. John Zerwas spoke highly of the program model and was recognized by Kim Griffin, Executive Director, as the State's legislative champion by the NFP National Service Office. Sara Davis praised the great work Houston NFP teams are doing and shared about the impact of her ride along home visit with Savanah Ryan, RN. Sheila Jackson Lee presented a Congressional Proclamation to all Nurse-Family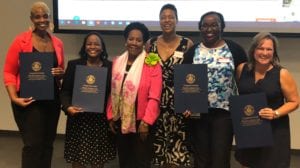 Partnership agency supervisors and thanked each program for their dedication to serving at-risk mothers in our community and the outcomes we are achieving. In addition to elected officials, two of the first NFP graduates from the Texas Children's Health Plan NFP program shared their stories of how NFP has impacted their life and the lives of their children and families. A panel of 7 original NFP nurses and supervisors from the original teams were also on hand to share how the program has impacted both their professional and personal lives. The event brought home the message that big changes happen in small increments over time and consistency pays off for this evidence-based program.
The bottom line is cost savings, healthier mothers and babies, children that get a better start in life and stronger families.
Keep Cool, and Carry On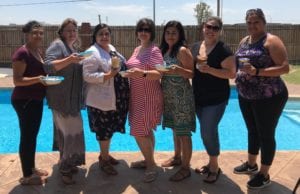 This summer, the Texas National Service Office team sent a small token of our appreciation for the hard work all the teams put in this Spring for our highest ever client enrollment.  Teams enjoyed ice cream socials.  Check out some of the pictures and videos of teams enjoying their treats and share yours on social media @NFP_nursefamily and @txnfped
https://twitter.com/WiNGS_Dallas/status/1159890916766879744?s=20