Staying Connected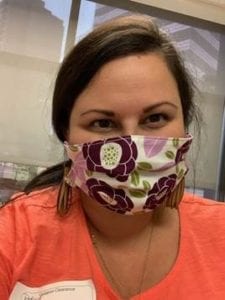 Nurse-Family Partnership continues to deliver services, supporting women and their families during this pandemic and share some spring cheer in the midst of this pandemic.  In an effort to remain connected to clients, the Nurse-Family Partnership team at Texas Children's Health Plan NFP assembled bags for porch drop offs for any family willing to accept them.  Each bag contained individualized items focused on meeting  their unique needs and stage in the program.  Items consisted of educational books with apps to help moms receive the education they need (pregnancy, newborn, breastfeeding etc) in addition to the nurse virtual visits.  The bags included essential items like hand sanitizers, diapers, wipes, thermometers, and items to promote parent child play (sidewalk chalk, bubbles, toddler scavenger hunts (indoor and outdoor), and an Easter book to promote language development.  The deliveries were very well received by clients and they were excited to see their nurse even at a distance.
NFP is in a strong position to stay connected with families by replacing in-person home visits with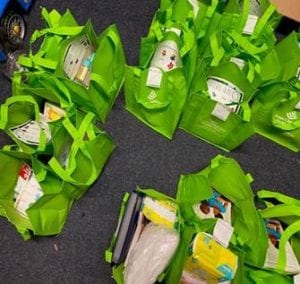 our well-established telehealth and alternative visit options. The NFP model instituted specific guidance on conducting visits via telehealth in March 2017. We have a well-established track record of successfully delivering model content and providing social connection outside of in-person visits. This guidance has been refreshed and adapted for use during the COVID-19 emergency. NFP continues to enroll new moms, and support enrollees through pregnancy, postpartum, infancy and toddlerhood. For information about NFP's use of telehealth, click here.
NFP recognizes that the families we serve are likely to experience greater stress during this time, putting them at risk for the development or exacerbation of mental health disorders, including substance use disorders, and intimate partner violence (IPV). NFP has worked with subject matter experts to create specific guidance for NFP nurses when addressing mental health and IPV violence during this unprecedented emergency.
For more information about NFP and COVID-19 please visit our website. I also encourage you to read a message from NFP's Chief Nursing Officer discussing how NFP is responding.
Letter of Appreciation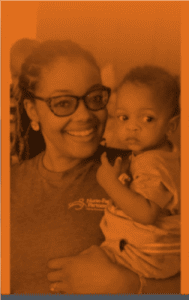 I am overwhelmed with gratitude for those who have checked on me, sent love notes, or pictures of their little ones that are healthy and safe at home. Often families are concerned for my wellbeing above their own. This is their gift of love.
Typically, their home visits last an hour to an hour and a half. These visits are a luxury afforded to them by the state's home visiting program, Nurse Family Partnership (NFP). NFP is a grant funded program that serves the under resourced community by providing in home nurse visits for first time mothers. I have the honor to serve a full caseload of African American families. A gift afforded by the Healthy Families initiative.
COVID has shifted care from face to face visits to telehealth visits, a tool rarely utilized in my county. With this alteration in visit structure, I found that moms were not responding well to change. This I have assumed from an increase in missed appointments and noticeable changes in behavior. On average, telehealth visits last around ten to fifteen minutes although I am available to them for the allotted ninety minutes; frustrated, I questioned why. Why are you missing your scheduled appointments? Why do you send short texts instead of answering the phone? When you do answer, why must I work so hard to get information from you? Why do we feel so disconnected? Spirit revealed that this is their way of honoring me. By giving me back the gift of time.
Images that have been released by media show an exhausted, overworked, and often unprotected healthcare workforce. Although I am thankful for those who are serving in their communities, that is not the case here in rural East Texas. None the less, Moms have
internalized this image and have assumed that "Nurse Jasmine" is busy saving the world. I ought not bother her or take too much of her time. Evident by text that begin with "If it's not too much trouble" or "Can I ask you a quick question?". I want you all to know that I am still your home visitor. Home has just changed to a virtual space. You are never a bother, silly questions do not exist here, all that exists are honest feelings to be shared and investigated. There is almost nothing that I would not do for you. I would rearrange the stars for you if I could. You are my gift.
Smith county is an interesting community in that we are often criticized for being slow moving, behind the times although in distance, we sit just an hour and a half from Dallas. My community (for the most part) has honored the order to shelter in place. All colleges and universities are now fully online. Students, who make up a significant portion of our community, have now returned to their own. Those who remain are entrusted with the task of flattening the curve and have done a beautiful job supporting each other through this troubling time. Businesses are closing. Neighbors are trading rations, conversing over distance, and gathering grocery lists thus allowing the vulnerable to remain at home. There is even a neighborhood teddy bear hunt where homes place stuffed animals in the front windows for families to find during their walks. COVID has reminds us, community is a gift.
We are a community filled with the elderly who remain present through generations. We are also a town in transition. The younger generation desperately desiring to honor history but requesting to mirror the neighboring urban city, full of amenities. Often, the elderly feel disrespected while the youth grow impatient. However, the elderly are gifts to be savored. I plead for a change in mindset, that we honor our elders by appreciating their gift, time's wisdom.
Criticize what you may, that slow moving pace is wisdom has kept us safe. Winston Churchill states "to build may have to be the slow and laborious task of years. To destroy can be the thoughtless act of a single day". Yes, the elderly's insight has slowed down progression but in such time as COVID I am thankful that we are a developing micro-urban community and not a metroplex where major tragedy currently takes place. We have the gift of the space.
That space has allowed us to flatten the curve here in Smith county. To avoid, prevent, and delay what COVID is doing to several other communities. For that we are grateful.
Let us take note of the gifts our community possesses. Be thankful for these gifts. Treasure them. Hold them close. Thank you Lord for your many blessings, many thanks to my community, for I am honored to serve you.
High honor to my family, both present in human form and those in spirit, you shape me. Gratitude to my wife Nicole Drake, you are the positive energy refueling me each day. Appreciation for my most seasoned friend Susan Rodriguez, I wish that I could hold your hand. Recognition to my favorite English teacher Dana Smith, you fueled my desire for literature as well as my love of Prince. To my brother Cory Simmons for inspiring the writer within, thank you.
Jasmine Farrish MSN, MPH, RN
Nurse Home Visitor, Nurse Family Partnership
UT Health East Texas – Smith County, Tyler Texas
Celebrating Graduates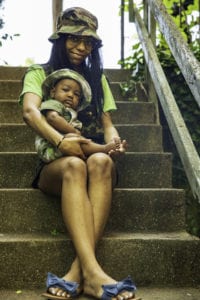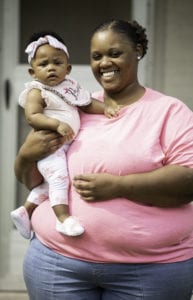 After hearing that seniors were not able to have a graduation ceremony, Nurse Nicole Drake was asked to take a few porch pictures as a gift for a disappointed client. In true fashion, she took it 10 steps forward and offered porch photos for all mothers in the Nurse-Family Partnership program. We drove to each client's house and they stepped outside, dressed up with their babies, ready for a quick photo shoot. A chance to capture joy in the mist of uncertainty. We both made crazy faces and giddy noises to get reactions and smiles from babies. So thankful that we too got the opportunity to smile. What a gift.
Permian Basin – We Are NFP