Unsurpassed evidence of effectiveness.
Nurse-Family Partnership is validated by research, yet continuously improved.
Over more than four decades, Nurse-Family Partnership has been developed, tested and replicated in community settings. This work has been founded on four principles:
Develop the program well before testing it.
Test it thoroughly before offering it for public investment.
Replicate it carefully. Continue rigorous evaluation of national replication.
Improve it continuously.
This approach has contributed to the NFP program being identified as the only early childhood program that meets the Coalition for Evidence-Based Policy's "Top Tier" of evidence1, as the program with the strongest evidence that it prevents child abuse and neglect2 and as a program that produces significant economic return on investment.3-4
Program founder Dr. David Olds, his research team, and the Nurse-Family Partnership National Service Office staff believe they have a responsibility to the families in the program — a responsibility to know whether Nurse-Family Partnership actually improves maternal life course and child health and development. It is also a responsibility to society to know if taxpayers' dollars produce returns on investment. The evidence is clear: Nurse-Family Partnership delivers on both grounds.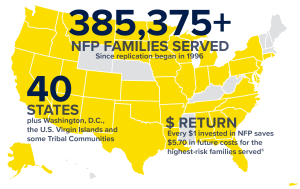 Learn More
Overview of Nurse-Family Partnership
Benefits and Costs
---
1. "Social Programs That Work." Coalition for Evidence-Based Policy.
2. MacMillan H, Wathen L, Barlow NC, Fergusson J, Leventhal DM, Taussig JM, Heather N. Interventions to prevent child maltreatment and associated impairment. Lancet 2008; 1-17.
3. Aos S, Lieb R, Mayfield J, Miller M, Pennucci A. Benefits and costs of prevention and early intervention programs for youth. Washington State Institute for Public Policy 2004; 1-20.
4. Karoly LA, Kilburn MR, Cannon JS. Early childhood interventions: Proven results, future promise. RAND Corporation 2005.