Pay for Success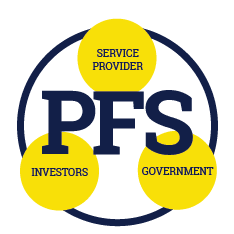 Pay for Success (PFS) is a unique form of social innovation financing that allows government entities to access the private resources needed now to scale effective programs, like Nurse-Family Partnership (NFP), and achieve improved social outcomes. In 2016, NFP and South Carolina launched the nation's first PFS project to improve maternal and child health outcomes for low-income families.
Project Details
FUNDING:
Philanthropic investment ($17M) + Medicaid reimbursement via a 1915(b) Waiver ($13M) awarded to the South Carolina Department of Health and Human Services by the federal Centers for Medicare and Medicaid Services. Investors of the project include: The Duke Endowment, BlueCross BlueShield of South Carolina Foundation, The Boeing Company, Greenville County First Steps, Blue Meridian Partners and Arnold Ventures (funded the Pilot).
OUTCOME METRICS:
Reduction in Preterm Births
Reduction in Child Injuries and Hospitalizations/Emergency Department utilization
Increase in Healthy Birth Spacing between 1st and 2nd child
Increase in number of first-time moms served in Low-Income Zip Codes
REACH:
This PFS project allowed NFP to scale within South Carolina with 9 community-based, experienced network partners delivering the NFP program to more families, with more nurses, and in more counties than the program was previously able to reach.
Scaling Impact of South Carolina Pay for Success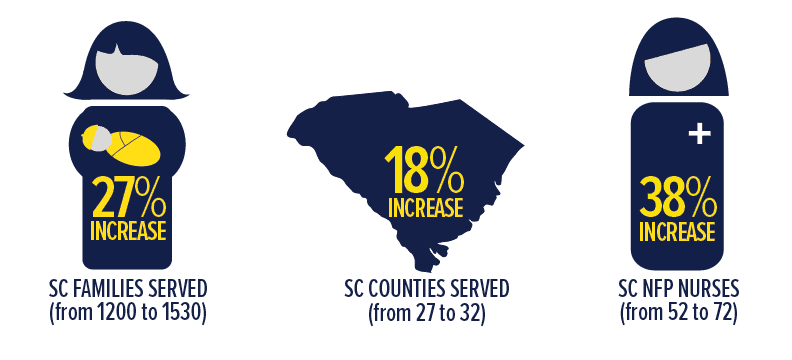 METHODOLOGY & EVALUATION:
Using a Randomized Controlled Trial, the independent Evaluator measures the level of outcomes achieved by a certain point in the project to inform outcome payments.
PARTNERS:
Service Provider: Nurse-Family Partnership team including NFP network partners and National Service Office staff
Outcomes Payor: South Carolina's Department of Health and Human Services
Fiscal Intermediary: Children's Trust of South Carolina
Project Intermediary: Social Finance
Evaluator: Abdul Latif Jameel Poverty Action Lab (J-PAL) North America at MIT
Technical Assistance (Pro-bono): Government Performance Lab at the Harvard Kennedy School
Project Innovations
To successfully scale NFP in South Carolina over the four-year enrollment period, NFP also piloted a number of new innovations that are now used throughout the country. The PFS project served as an incubator for new ways to maximize efficiencies and support fidelity. These included the increased use of telehealth, the launch of new client engagement models and improvements to the Strengths and Risks Framework. NFP also launched a specially branded marketing and advertising campaign to help enroll close to 6,000 pregnant women into the study.
SC PFS Project INTERIM Outcomes
Five years into the SC PFS project,  interim results were released with a partial sample of outcomes for mothers and children. The necessity of the interim study results was dependent on the PFS structure to determine if success payments should be made.
For more information about the study design, interim results and report produced by Harvard University and J-PAL North America, please visit the research team's South Carolina NFP Study Website at www.scnfpstudy.com
These interim results of the randomized controlled trial show that NFP did not achieve the PFS outcome goals to trigger success payments for a reduction in preterm births, an increase in healthy birth spacing and reductions in childhood injury. These PFS outcomes only provide a limited assessment of NFP over a specific time period. However, based on evidence from past studies, it is proven that NFP impacts a greater number of outcomes over the life course of the mother and child.
Terri was 22 weeks pregnant when she found out that something was wrong. A routine ultrasound had revealed her baby had a heart defect.

"The doctor told me the worst of the worst possible outcomes," Terri said. "All I could think was 'What did I do?' 'What went wrong?' "

Fortunately, she had nurse Karen.
The Research Continues
J-PAL, the evaluator of the SC PFS Project, will complete further analyses including a longitudinal evaluation, following these SC families for 30 years. They will assess NFP's impact on a wide array of outcomes available through administrative data, including: maternal and child health, maternal and child mortality, education, abuse and neglect, employment and earnings, use of government programs and social services, criminal justice involvement and more.