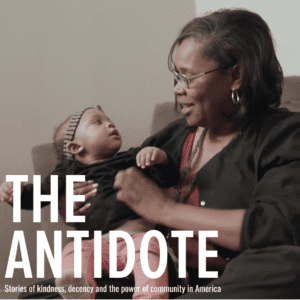 THE ANTIDOTE – Nurse Maria's Story
Nurse-Family Partnership nurse Maria Cody is featured in a short documentary film that amplifies the power of kindness and love. In the short film, THE ANTIDOTE – Nurse-Family Partnership, nurse Maria shows us to change a community, a family and a child's future, you have to start with the mother. She instills kindness and love in the mothers she visits, who, in turn, share kindness and love with their children.
Watch Maria's story in THE ANTIDOTE – Nurse-Family Partnership
Maria is a Nurse-Family Partnership nurse supervisor at MetroHealth in Cleveland, Ohio.
Directed by Academy Award-nominee, Kahane Cooperman, and six-time Emmy winner, John Hoffman, THE ANTIDOTE aims to drive a national conversation about the roles that kindness, decency, compassion and respect play in a civilized, democratic society. THE ANTIDOTE includes a full-length film and several short films (including the NFP short film on nurse Maria).