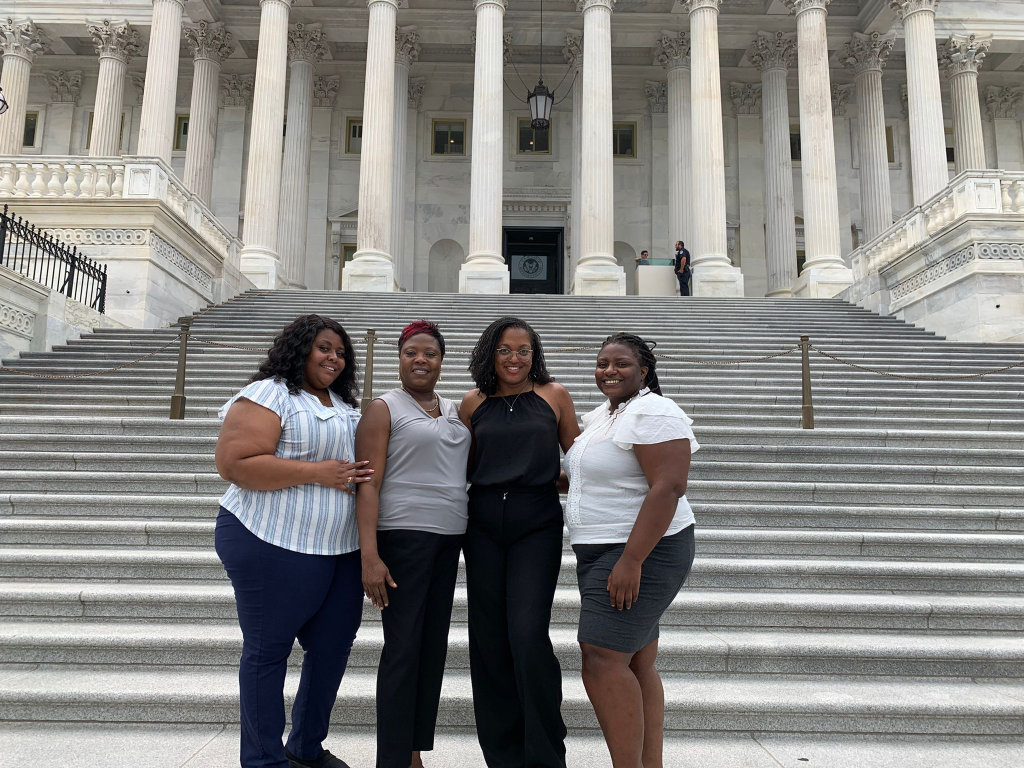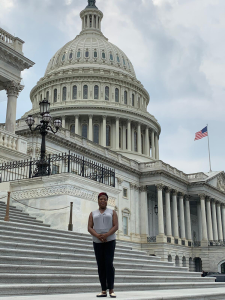 In June, the National Service Office (NSO) for Nurse-Family Partnership ® and Child First hosted our largest Policy and Advocacy Summit in Washington D.C. to advocate for the timely reauthorization of the Maternal, Infant, and Early Childhood Home Visiting (MIECHV) program. Funding for the program is expiring and Congress must act before September 20, 2022 to ensure that families across the country continue to receive essential home visiting services.
During the two-day Policy and Advocacy Summit, the NSO had 20 advocates and five staff members from Nurse-Family Partnership (NFP) and Child First attend nearly 50 meetings with Members of Congress or their staff to share their experience and ask Members to support MIECHV reauthorization. Among the advocates was Magalie Joseph, RN, BSN, LMSW, CLC, CCE, CCM – Nurse Supervisor for Brooklyn Nurse-Family Partnership SCO Family of Services in New York.
"Nurses are at the front-line of health care and are the biggest advocates for the moms and families we visit. I see the inequities that exist and know Nurse-Family Partnership nurses recognize what their needs are. This is why we need to make our voices heard," said Magalie. In 2021, approximately $77.5 million dollars of MIECHV funding was allocated to Nurse-Family Partnership programs across the country.
This wasn't Magalie's first time advocating on behalf of NFP. "I recently met with Senator Chuck Schumer to advocate for better health outcomes for moms and babies in New York," she remembered. Magalie continued, "When I received the invitation for the Policy and Advocacy Summit, I felt special. So, I took the opportunity to experience it."
On June 21, Magalie joined fellow NFP nurses, Child First program staff and Parent Ambassadors (former NFP moms) from across the country for an Education and Training Day in D.C. hosted by the NSO Policy & Government Affairs team. Mara Brough, Senior Manager of National Advocacy for the National Service Office for Nurse-Family Partnership ® and Child First said, "We wanted to ensure the advocates would feel confident at Capitol Hill the next day, so we explained the federal lawmaking process, roleplayed legislative visits and crafted stories."
After the Education and Training Day, Magalie felt prepared to meet with Members of Congress the following day. "I was happy we had training to prepare for what exactly we would be encountering. Plus, I enjoyed meeting the rest of the advocates who all believe in the NFP mission!" Magalie said.
Nurses are at the front-line of health care and are the biggest advocates for the moms and families we visit.
Then, on June 22, the advocates went to work informing Members of Congress or their staff of the need for MIECHV reauthorization. "That morning, I received so many supportive texts from my nursing colleagues saying, 'you can do this!'" said Magalie.
Magalie attended five meetings, each with a similar format. "The lawmakers had little time. Our small group introduced ourselves and defined home visiting. Next, I shared my experience as an NFP nurse with a success story and explained how the outcome of the mom and child would be different if she didn't have a nurse. Then a Parent Ambassador spoke first-hand about her experience as an NFP mom. Lastly, an NFP staff member moved to the policy ask for MIECHV reauthorization and we answered any questions," Magalie described.
In the meetings, Magalie shared a recent story related to maternal mortality. "One of our nurses had a teen mom who showed signs of preeclampsia and the hospital turned her away. Our nurse advised the mom to return to the hospital and stayed on the phone with her until she was rightfully admitted. If she would not have done that, the mom could have lost her life and the baby," she revealed.
I want to continue educating legislators about the importance of NFP because it is changing lives.
One particular meeting made Magalie excited to recount. She said, "Congresswoman Yvette Clarke is in my district. When I met with her staff member, they recognized my name because I often send advocacy emails. It was nice that her office was finally able to put my face with my name!"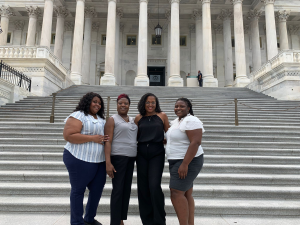 Mara said, "Magalie did a great job during the summit answering questions about what home visiting looks like, provide real life examples as a nurse and show how her work is impactful."
Magalie recollects on the experience, "It was an honor to advocate and share success stories. I want to continue educating legislators about the importance of NFP because it is changing lives. The Policy and Advocacy Summit was really profound for me – I realized I was doing something great!"
To learn how you can become involved in NSO advocacy efforts, text NFP to 50457.