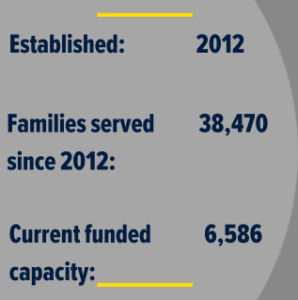 The California Nurse-Family Partnership (NFP) maternal-child health community nursing program began serving families in 1996. NFP now is available to 5,200 first-time expectant mothers, both adolescents and young adults, in 21 counties with support from various federal, state and local sources. But significant need remains, as NFP is estimated to reach just one-fifth of eligible moms and babies in the state.
Over 40 years of evidence show the measurable, long-lasting difference Nurse-Family Partnership makes in the lives of moms and their children. Meet NFP moms and nurses in our video.
When Krystle found out she was pregnant with triplets Sariyah, Amirah and Zahra, she thought safely making it through her pregnancy would be her biggest challenge. As it turns out, it was just the beginning.
Click here to learn more about bringing Nurse-Family Partnership to your community.
NFP: Outcomes, Costs and Return on Investment in California.
How Investing in NFP Produces Savings in California.
19 Ways NFP is Projected to Affect CA Families' Life Status & Financial Outcomes.