CELEBRATING NATIONAL NURSES WEEK
National Nurses Week has always been a special week at Nurse-Family Partnership – a chance to celebrate and lift up the voices of our nursing workforce. Over the course of the past year, we witnessed how dedicated and critical nurses are to our country's health and wellbeing. Nurses have always operated with a sense of urgency and compassion, even in the face of the unprecedented pressure and challenges. As we emerge from the COVID-19 pandemic – with alarming levels of burnout symptoms reported among nurses[1] and with widening health disparities– it's more important than ever that we prioritize the nursing workforce in policymaking and recovery efforts.
nurses supporting health equity
As we explored in a December conversation on public health nursing, nurses are uniquely positioned to address social determinants of health, support community health and promote health equity, especially in times of crisis like we've experienced over the past year. Their unique skills, education and compassion allows nurses, especially community and public health nurses, to serve the holistic needs around patients' health and wellbeing.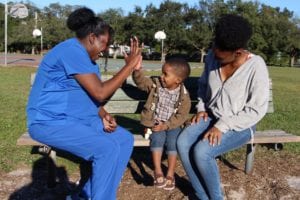 Yet, nursing and healthcare leaders nationwide have been raising alarms for some time about troubling shortages and lack of diversity in the nursing workforce. While nursing shortages create challenges across the profession, this is especially acute in underserved areas that already face worse health outcomes and socioeconomic challenges. Recognizing this challenge, healthcare leaders and policymakers have placed a greater emphasis on building a larger and more diverse nursing workforce in recent years. As data shows, there is still work to do – as of 2019, nearly 70% of the RN workforce identified as White, with just over 11% identifying as Black/African American and fewer than 8% identifying as Hispanic.[2] What is clear – a more diverse nursing workforce, one that mirrors the diversity of the nation overall and the communities that nurses serve – plays a critical role in promoting health equity and reducing health disparities.
advocating for a strong, diverse nursing workforce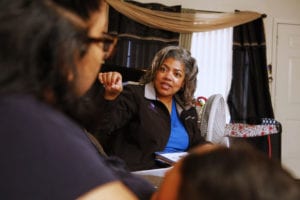 The National Service Office is committed to building a stronger, more diverse nursing workforce. Through partnerships with nursing schools, hospitals and health systems, nursing trade associations and other stakeholder groups, we're working to build stronger pipelines of nurses, especially recent BSN graduates, into public health nursing positions like NFP.
Further, the National Service Office advocates for policy solutions that support a stronger, more diverse nursing workforce, including legislation that would establish loan forgiveness and repayment programs for medical and professional training that acknowledges the critical care that nurses provide to families and communities nationwide. Last Congress, the NSO advocated for the passage of the Title VIII Nursing Workforce Reauthorization Act which expanded and reauthorized nursing workforce development programs including loan repayment and scholarships for nurses. We also endorse H.R. 2418, the Student Loan Forgiveness for Frontline Health Workers Act, and will continue to advocate for legislation that supports the nursing workforce.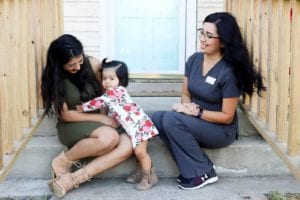 The nursing profession faces serious gaps in building a workforce that reflects the racial and ethnic diversity of the communities in which they work. Policy fixes that reduce burdens on nurses once they enter the workforce and support ongoing professional development are an important start, as are incentives for nurses to take jobs in rural and underserved communities. We will continue to push for policy solutions that start upstream to address nurse shortages and support a pipeline of strong, diverse nursing talent into the workforce. We applaud the work of organizations like the WHO, ANA, AWHONN, APHA and many more who are critical partners in advocating for nurses everywhere.
This year during Nurses Week, and as we continue to celebrate International Year of the Nurse and Midwife throughout 2021, join the National Service Office in not just celebrating the strength of nurses, but in taking action to help build a stronger, more diverse nursing workforce. To stay up to date on the latest policy updates and take action on behalf of nurses and families, join our Advocacy Network today.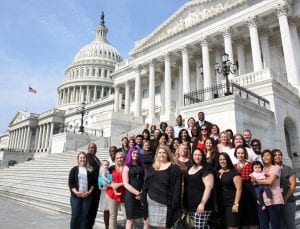 ---
[1] American Nurses Foundation, Pulse on the Nation's Nurses COVID-19 Survey Series: Year One COVID-19 Impact Assessment, February 2021.
[2] https://campaignforaction.org/resource/racialethnic-composition-rn-workforce-us/