We are just two weeks away from Election Day, a day when we can make our voices heard. It is our collective voice that shapes our government and public policy to reflect our country's diversity and our shared values – the policies that will impact families, communities, states, and the direction of our nation for years to come.
Between the ongoing COVID-19 pandemic, compounding economic crises, and growing calls for social justice, the stakes in this election have never been higher. Existing disparities within our society have become magnified this year as many families that were just getting by are now struggling to support themselves. That's why it's critical that we support policies that uplift historically under-resourced communities and families who endure the most during crises like we're facing now.
Our Policy Priorities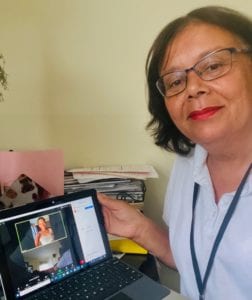 This election season, Nurse-Family Partnership is pushing for policies that provide families with the critical support they need to thrive, such as expanded Medicaid coverage, paid leave and child care, access to benefits like WIC and SNAP, and enhanced broadband connectivity. Further, we are pushing for policies that support nurses and frontline health workers as they continue to respond to COVID-19, as well as policies that provide evidence-based programs like ours with the funding and flexibility needed to continue safely and effectively reaching families at this time.
I know that many of us find ourselves fed up with the political process and divisiveness we're seeing today – but I encourage you to remember the power of your vote and the power of our collective voice in molding our communities. As citizens of this country, we the people have both a privilege and a responsibility to vote.  So, if you find yourself frustrated, unmotivated or questioning the impact of your vote, think again. I encourage you to vote on behalf of the families whose voices aren't heard. Vote for the babies and children whose futures depend on it.
Get Involved
How do we create the changes we'd like to see?
With voting already underway in many states and millions of ballots already cast, it's time for all of us to take action.
I'm voting for a future where children are healthy, families thrive, communities prosper and cycles of poverty are broken – are you?