Recently, I was thrilled to see some exciting news from our friends at Family Nurse Partnership in the UK– one of several international implementations of the Nurse-Family Partnership model. Kate Middleton, The Duchess of Cambridge, recently paid a visit to the program, meeting with families and learning about the impact a personal nurse can have on the life and future of a first-time mom and her child. While I never imagined I would see Her Royal Highness meeting with families in our program, it's exciting that leaders across the world are recognizing the power of the Nurse-Family Partnership model – seeing the impact of our mission crossing oceans and continents is truly inspiring.
The Duchess of Cambridge spoke with parents who have been through the @FNPNationalUnit programme at @EvelinaLondon Sunshine House, to better understand how the programme has helped them and their children. pic.twitter.com/kZSncuW00N

— Kensington Palace (@KensingtonRoyal) September 19, 2019
BUILDING A GLOBAL MOVEMENT
For me, it drives home the fact that at NFP, we are part of a global movement. But real, sustainable change starts on the ground, in communities across the country and world.
We rely on the dedication and passion of leaders at all levels who commit themselves every day to creating change in their communities, ensuring that everyone has a path to success regardless of the social and financial circumstances.
I consider myself extremely fortunate to have the opportunity to meet with leaders across this country who are dedicated champions for change.
HONORING LOCAL CHAMPIONS
Last week, I traveled to Greenville, South Carolina to celebrate the 10-year anniversary of Nurse-Family Partnership in the state. This is a critical milestone and the evening was a chance to celebrate how far we've come in the state – reaching more than 7,000 families since 2009. But most importantly, it was a chance to honor three local champions who were instrumental in launching and growing NFP in South Carolina: Dr. Amy Crockett, a physician with Prisma Health who helped write the first grant to bring NFP to South Carolina; Harvey Galloway, a philanthropic leader who during his time leading the BlueCross BlueShield of South Carolina Foundation directed critical, long-term investments to NFP; and State Senator Thomas Alexander, who has dedicated so much of his time and influence in public service to supporting NFP's expansion in South Carolina.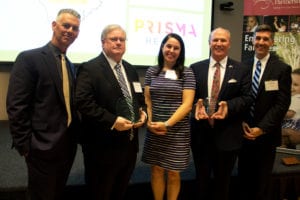 Beyond our honorees, there were so many in the room that night that have contributed their time and passion to the success of Nurse-Family Partnership. It was a truly special group of people from different backgrounds, different communities, and different professions – from healthcare and business to philanthropy and government—all united in their shared vision for the future, each doing their part to create change for families and uplift communities in South Carolina.
I left that evening feeling inspired and motivated by the local leaders that I had the honor to meet – and energized about the future of the program in South Carolina and beyond.
No words can adequately express the gratitude our entire organization has for advocates and supporters at all levels who propel our work and our mission forward – from local champions to the Royal Family.