The following statement is Nurse-Family Partnership CEO frank daidone's written testimony submitted for the hearing, "Overcoming Racial Disparities and Social Determinants in the Maternal Mortality Crisis," on Thurs. May 16, 2019.
The Nurse-Family Partnership (NFP) applauds the Committee's work to better understand this issue, what is causing it, and how improved policies and investments can help address the pervasive inequities behind it.
NFP is an evidence-based community health program that helps transform the lives of vulnerable mothers pregnant with their first child. NFP partners these moms with registered nurses beginning early in pregnancy and continuing until the child is age two—providing weekly and bi-weekly visits that focus on improving maternal health, child health and development, and economic self-sufficiency. Our nurses are on the front lines of prevention efforts aimed at reducing maternal mortality and achieving better birth outcomes.
Nurse-Family Partnership outcomes
Every day, NFP is serving over 35,000 low-income moms in 41 states, the U.S. Virgin Islands and six tribal communities.  We have served 286,387 moms since we began replicating our model in 1996. Over 40 years of randomized controlled trial research and longitudinal follow-up studies have demonstrated that families served by NFP experience the following improvements in maternal health:
Independent evaluations have demonstrated that NFP outcomes for families also produce significant savings to Federal, State and local governments.  A study by the RAND Corporation found that every dollar invested in NFP produces $5.70 of government savings, and Dr. Ted Miller of the Pacific Institute for Research and Evaluation projects that by a child's 18th birthday, state and federal government cost savings due to NFP's outcomes will average $26,898 per family served.

Interested in learning more about our policy work?
Maternal Mortality and the Role of Nurse-Family Partnership
The United States is the only developed country in the world where maternal mortality is on the rise[4]. Research on pregnancy-related mortality data has consistently concluded:
The NFP model, along with the trusted relationship between a nurse and mother, creates protective factors for mom and baby against the societal challenges that contribute to toxic stress, systemic racism, and adverse pregnancy outcomes. Over 1900 NFP nurses across the country serve a specific population of first-time mothers who face inequities across this spectrum. A typical NFP mother is young, living in poverty, and navigating several challenges, including social isolation, abuse and mental illness. Our nurses are uniquely situated to reach underserved women and trained to help mothers at one of the most transformative parts of their lives — the birth of a first child.
Our Model is the gold standard
NFP nurses use their clinical expertise and assessment skills to understand the strengths and risks that mothers have experienced in their lifetime that may impact their health and their child's health.  With a two generational approach, nurses identify early warning signs of health problems during pregnancy, post-partum, infancy and early childhood that can lead to adverse outcomes—even death. In addition to monitoring for risk factors, NFP nurses support mothers to bravely and boldly advocate for themselves and their children as they interact with the health care system. NFP nurses ensure that women and children experiencing signs of possible health complications are seen by the appropriate health care provider and that appropriate follow-up care is completed. They also connect moms with community resources and partners to provide ongoing support and care.
The NFP model has demonstrated sizeable and sustained pregnancy outcomes among the high-risk population that we serve. A 20-year follow up study of the program shows that NFP is effective at reducing all-cause mortality among mothers and preventable-cause mortality in their first-born children living in highly disadvantaged settings. This study showed that mothers who did not receive nurse home-visits were nearly 3 times more likely to die from all causes of death than nurse-visited moms (3.7% versus 1.3%)[7].

Photo by Lydia Thompson/Urban Institute
INVEST IN EVIDENCE-BASED GENERATIONAL CHANGE
When making investments, we believe that strong data with impactful outcomes is critical, but some of the best evidence that NFP can demonstrate is in the thriving, families that we see graduate from our program – mothers who are empowered to demand a better future for themselves and their children despite their individual challenges, and achieving goals that they may not have thought to be attainable.
NFP believes that all mothers should be empowered in this way – and while NFP serves a distinct population, we are committed to better understanding and addressing who is "at-risk" for adverse pregnancy and birth outcomes. As a program that is rooted in delivering an evidence-based intervention that works for those who need it, we have been and always will be committed to targeted research and innovation of the model, education of our nurses, and understanding the communities in which we operate. NFP's model requires understanding each client's lived experiences to identify strengths & challenges that foster resiliency and to mitigate nurses' biases or judgement about their clients' experiences.
OUR recommendations to congress
We recognize that NFP is not a "silver bullet."  As such, we urge Congress to expand funding for programs that support the ability of all parents to thrive. NFP applauds Congress for their bi-partisan, bi-cameral support for the Maternal, Infant and Early Childhood Home Visiting (MIECHV) program—which was reauthorized in early 2018 with leadership from this Committee.  With additional and consistent funding, we can bring NFP and other programs like it to more families that need it.  We are also grateful for this committee's leadership in the passage of the Families First Prevention Services Act (FFPSA), which we hope will be another way for states to invest in prevention programs like NFP.
We must also make sure that we protect and expand the ability of pregnant and postpartum women to access Medicaid and improve the ability of Medicaid to provide services like home visiting. NFP was proud to endorse the MOMMA's Act (H.R. 1897/S. 916) which, amongst several other provisions that improve maternal health, extends postpartum Medicaid coverage to 12 months. We also appreciate legislation recently approved by the House Appropriations Committee to increase the funding for the Maternal and Child Health Block Grant and Healthy Start, both which focus on improvements in birth outcomes and mortality.
Nurse-Family Partnership thanks this Committee for opening this important conversation and continuing to explore how we as a country address and overcome the racial disparities and social determinants that greatly impact maternal mortality. We hope to be a resource as you continue this work. Thank you again, Chairman Neal, Ranking Member Brady and members of the Committee, for the opportunity to submit this testimony.
HELP US CHANGE THE U.S. MATERNAL MORTALITY CRISIS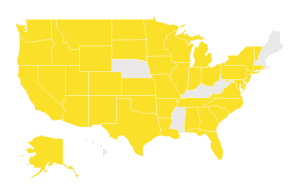 [1] Kitzman H, et al. Effect of prenatal and infancy home visitation by nurses on pregnancy outcomes, childhood injuries, and repeated childbearing. A randomized controlled trial. JAMA. 199
[2] Olds DL, Henderson CRJ, et al. Improving the delivery of prenatal care and outcomes of pregnancy: a randomized trial of nurse home visitation. Pediatrics. 1986
[3] Kitzman H, Olds DL, et al. Enduring effects of nurse home visitation on maternal life course: a 3-year follow-up of a randomized trial. JAMA. 2000
[4] Health Affairs. (February 4, 2019)
[5] Centers for Disease Control and Prevention. Pregnancy-related deaths. (Updated May 9, 2018)
[6] . Troiano N, Witcher P. Maternal Mortality and Morbidity in the United States. The Journal of Perinatal & Neonatal Nursing. 2018
[7] Olds, D., Kitzman, H., et al. Impact of Home Visiting by Nurses on Maternal and Child Mortality: Results of a Two-Decade Follow-Up of a Randomized, Clinical Trial. JAMA Pediatrics. 2014