A Promise
To Future Generations
Meet Liam and his family. Liam is a charismatic, outgoing, confident young man. At eight-and-a-half years old, Liam has always excelled in school. He's bilingual in English and Spanish, and loves math and science.
When Liam's mom Victoria learned she was pregnant-an unplanned pregnancy while she was in school-she recalls feeling she might not be "qualified" to be a good mom. When her doctor mentioned Nurse-Family Partnership, and she was paired with her nurse Jenne, things quickly changed.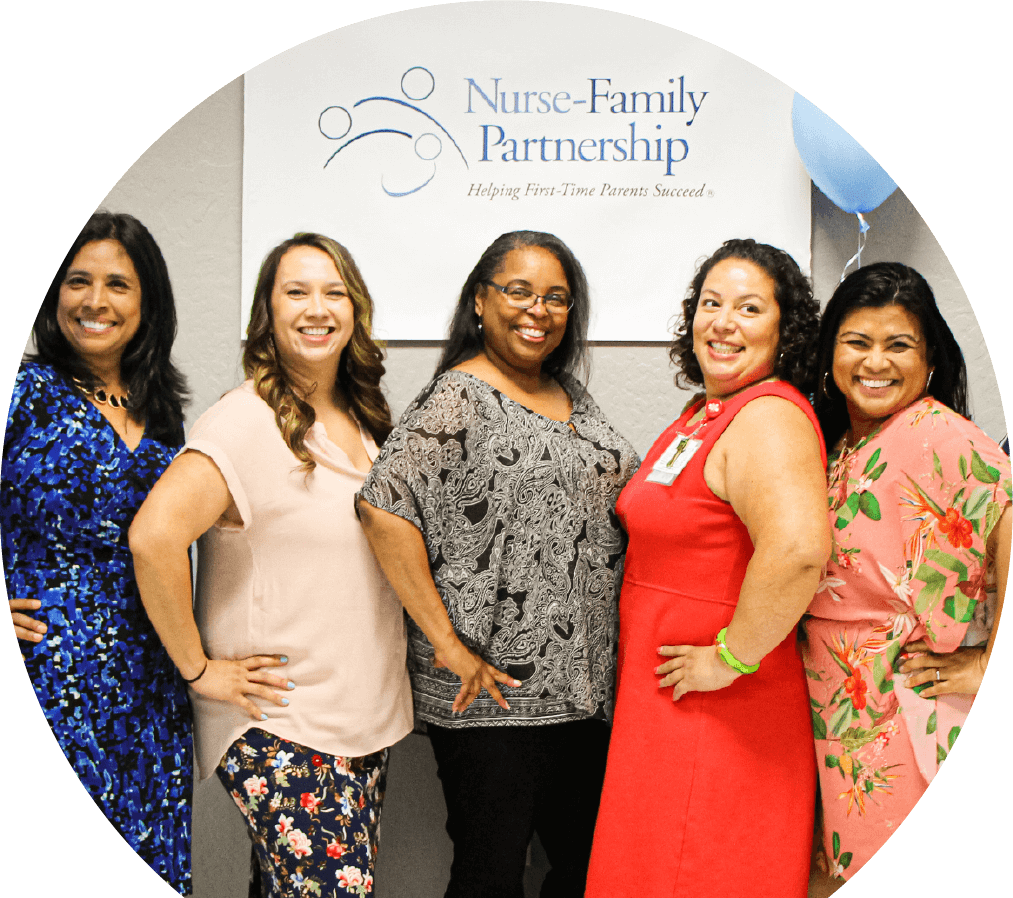 The Life-Changing
Power of Trust
"It's about the cultivation of hope. Our nurses simply never give up on our clients. We believe in them every single day, and that belief can be powerful. Because of this hope, they create plans to attain their dreams, step by step. They already have the strength and capacity they need inside of them. We just help them bring it out and bring it forward. And the results change lives. Ours and theirs."
For over 30 years, Nurse Supervisor Dawn Dailey has served in public health. Since 2012, she's done so through the Nurse-Family Partnership network partner in Contra Costa County, California.
IMMEDIATE POSITIVE
OUTCOMES
DURING PROGRAM PARTICIPATION
as likely to be employed by child's second birthday
fewer cases of pregnancy-induced hypertension
Increase in earning a high school diploma/GED one year after enrolling
reduction in language delays
fewer incidences of abuse and neglect
fewer health care encounters for injuries or ingestions in the first two years
fewer emergency room visits for accidents and poisonings
TWO DECADES PAST GRADUATION
Less time spent
on welfare
Less likely to die from all causes of death
fewer self-reported arrests of mothers by child aged 15
more likely to be married over the 18-year period
fewer behavioral and intellectual problems at age 6
more likely to graduate from high school with honors
less likely to have depression or anxiety at age 12
return for every dollar invested in the program
per family savings to society per family (savings in public assistance spending)
COORDINATED EFFORTS TO COMBAT POVERTY
The heart of Nurse-Family Partnership's work is the relationship between a nurse and a mom. And we know it takes more to change the tide for families living in poverty - including supportive policies and adequate public funding. That's why our National Service Office and our dedicated advocates work tirelessly to make sure our local implementing agencies, nurses and families are protected by effective government policies and sufficient budgetary support at the local, state and federal levels. 2019 was a successful year for achievements in these areas.
GRASSROOTS ADVOCACY IN ACTION
Each year, our Policy and Government Affairs Team mobilize grassroots advocacy efforts to strengthen the growing chorus of government leaders who understand the power and potential of our program. Thanks to the strong advocates associated with our National Service Office, in 2019 we:
Built relationships with nearly 100 congressional and committee offices

Launched a new advocacy training program to provide our nurses with the tools to be strong grassroots advocates at all levels of government

Hosted advocacy days in 10 states and one federal advocacy day in D.C. with our Parent Ambassadors.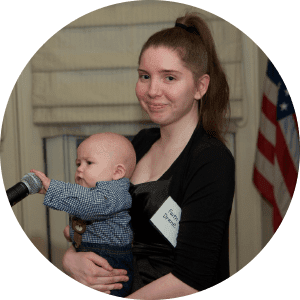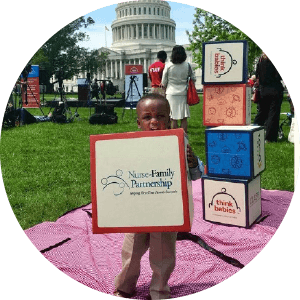 LEGISLATIVE VICTORIES FOR MATERNAL AND CHILD HEALTH
In 2019, we celebrated major victories for maternal and child health at state and federal levels. As a result of our efforts along with our many advocates and partners, we achieved the following:
Helped push new federal and state legislation that supports improved standards of care for maternal health, increased access to maternity care in rural and underserved areas, and extended Medicaid coverage for mothers to one year postpartum.

Secured a 25% increase in additional public funding to support Nurse-Family Partnership nationwide, including doubling Medicaid funding overall and increasing available state funding in 10 states.
PARENT AMBASSADORS: FEARLESSLY SHARING THEIR STORIES, PASSIONATELY SHAPING PUBLIC POLICY
There is no better voice to tell our story than a mother who has experienced the program first-hand. In February 2019, we launched our Parent Ambassador program to raise awareness for Nurse-Family Partnership nationwide, in support of our public policy agenda. Our six inaugural Parent Ambassadors embarked on a two-year commitment to travel the country telling their story while advocating local, state and federal decision-makers, the media and the general public in order to advance policies that support vulnerable families across the country.
Parent Ambassador Outreach in 2019:
475+ Volunteer Hours

34 Action Alerts to Lawmakers

268 In-person Advocacy Training Hours

28 Advocacy Events

20 Capitol Hill Visits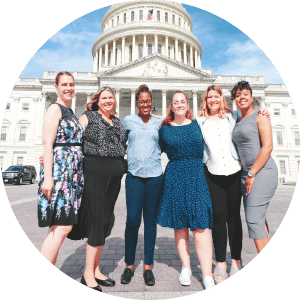 THE POWER OF GENEROSITY, ADVOCACY AND CONNECTION:
JOINING FORCES FOR A CITY IN NEED
It had been several years since Nurse-Family Partnership served Chicago and its surrounding suburbs. This despite the area being one where 27.9% of children come from families living below the federal poverty line.
Then, in early 2018, a long-time supporter (who wishes to remain anonymous) reached out with a desire to help expand the program in meaningful, strategic ways. This community leader and local champion created a pathway for Nurse-Family Partnership to reestablish a footprint in the Chicago area via private philanthropy, public funding and advocacy, a coordinated effort between many partners.
The success of this nearly two-year undertaking resulted from comprehensive, integrated efforts between Nurse-Family Partnership and Metropolitan Family Services. This is a remarkable example of how our diverse and committed champions, donors and partners can join forces to help Nurse-Family Partnership deliver on our promise.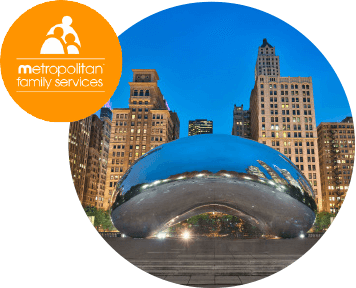 OUR LASTING IMPACT STARTS
WITH ONE DETERMINED MOM
Raising children is both one of the most challenging and the most rewarding jobs on the planet. Nurse-Family Partnership recognizes that not every first-time mom has the necessary resources to navigate the challenges of parenthood and the initial confidence to be the best mom they can be. By supporting moms to reach their full potential, we build strong families and healthier communities.