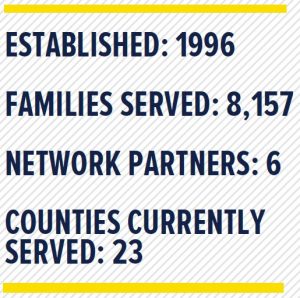 Dayton was one of the very first communities to implement Nurse-Family Partnership, back in 1996. That is when the U.S. Department of Justice asked Dr. David Olds, the NFP program founder, the permission to start Nurse-Family Partnership in the community as part of the federal Weed and Seed program. Since then, thousands of women and their children in the buckeye state have benefitted from this proven nurse home visitation program.

Over 40 years of evidence show the measurable, long-lasting difference Nurse-Family Partnership makes in the lives of moms and their children. Meet NFP moms and nurses in our video.
Facing a high-risk pregnancy triggered by a prior medical condition, 19-year-old Tierra knew she needed support. Fortunately, she had enrolled in NFP. Valerie Ragland, an NFP nurse home visitor with Help Me Grow Brighter Futures in Dayton, Ohio, worked with Tierra throughout her journey to parenthood.
Click here to learn more about bringing Nurse-Family Partnership to your community.