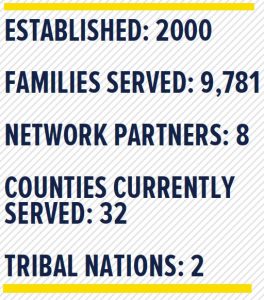 In 2000, Minnesota Department of Health began to administer family home visiting services for families at risk for poor maternal and child outcomes. Nurse-Family Partnership began serving families in Minnesota in 2000 to address the factors that impact relationships and environments for pregnant and parenting families such as improvement in prenatal health, fewer childhood injuries, fewer cases of neglect and maltreatment; fewer subsequent, pregnancies, improved school readiness and increased maternal employment. 
Over 40 years of evidence show the measurable, long-lasting difference Nurse-Family Partnership makes in the lives of moms and their children. Meet NFP moms and nurses in our video.
Thankfully, Sam had ongoing support from a nurse with extensive training. Based in Benson with the Supporting Hands Nurse-Family Partnership program serving rural Minnesota, Karen helped Sam understand her baby's challenges and navigate the complexities of nurturing a sick infant.
Click here to learn more about bringing Nurse-Family Partnership to your community.