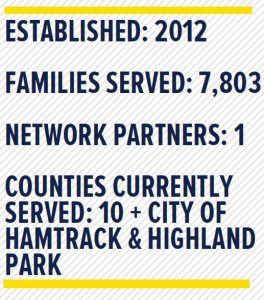 Since 2000, Nurse-Family Partnership has partnered with local and state agencies to improve outcomes for first-time moms and their babies. A proud partner of the Michigan Department of Health & Human Services, NFP serves families as part of the Michigan Home Visiting Initiative established to provide moms with services that best meet their needs. 10 agencies work collaboratively as part of the system to address the risks of poverty, preterm births, other poor maternal and child health outcomes, high school dropout rates, domestic violence and child maltreatment. 
Over 40 years of evidence show the measurable, long-lasting difference Nurse-Family Partnership makes in the lives of moms and their children. Meet NFP moms and nurses in our video.
Suffering from depression her entire life, the year before Danielle became pregnant she attempted suicide four times. Before her last attempt she "just wanted to end it all and be out of pain."
Click here to learn more about bringing Nurse-Family Partnership to your community.