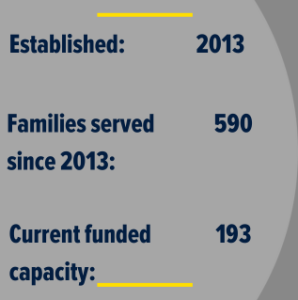 The first Nurse-Family Partnership program in Kansas was established in 2013 at the Shawnee County Health Agency in Topeka. Shawnee County Health Agency has provided public health services and support to mothers, infants and families for more than 20 years. In January of 2017 Johnson County Department of Health and Environment, in Olathe began implementing the NFP model as well, adding a second program in Kansas. 

Over 40 years of evidence show the measurable, long-lasting difference Nurse-Family Partnership makes in the lives of moms and their children. Meet NFP moms and nurses in our video.
Tobi, Athena's 6-year-old son, sits beside her on the sofa watching her homework videos and dreaming of being a scientist just like his mom. She's studying astrophysics and someday wants to work for NASA.
Click here to learn more about bringing Nurse-Family Partnership to your community.