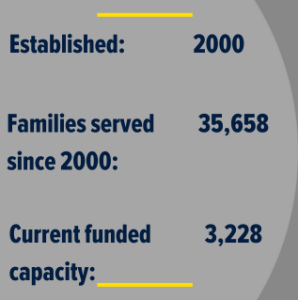 Colorado is a leader in evidence-based home visitation.
Colorado has been a leader in evidence-based home visitation as one of the earliest implementers of Nurse-Family Partnership with nurse home visitors delivering this evidence-based program to families in all Colorado counties. Individual agencies operate NFP sites and consist of public health departments, community health centers, community nursing agencies and hospital systems.
Over 40 years of evidence show the measurable, long-lasting difference Nurse-Family Partnership makes in the lives of moms and their children. Meet NFP moms and nurses in our video.
Anisia loves watching 18-month-old Israel try new things. "He's a happy baby. He's very active and always trying to climb everything," said Anisia. At 19, Anisia juggles school, a full-time job and motherhood. It's not a life she expected, but it's a life she's finding joy in.
Click here to learn more about bringing Nurse-Family Partnership to your community.