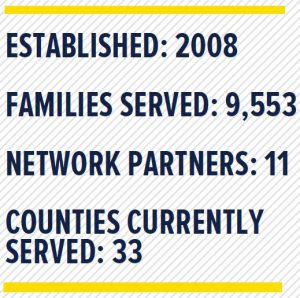 In 2008, a statewide public-private partnership of nonprofits, foundations and government agencies came together to bring Nurse-Family Partnership to South Carolina after seeing the overwhelmingly positive results from more than 40 years of research supporting the program. In just a few years, Nurse-Family Partnership in South Carolina has grown to include ten locations serving 34 counties across the state. The partnership of organizations supporting Nurse-Family Partnership continues efforts to expand to more locations in the future. Thanks to the dedication of Nurse-Family Partnership, low-income, first-time parents living in South Carolina have a place to turn for support, care and  help.
Over 40 years of evidence show the measurable, long-lasting difference Nurse-Family Partnership makes in the lives of moms and their children. Meet NFP moms and nurses in our video.
Terri was 22 weeks pregnant when she found out that something was wrong. A routine ultrasound had revealed her baby had a heart defect. She was devastated as she nervously waited for more information.
Click here to learn more about bringing Nurse-Family Partnership to your community.