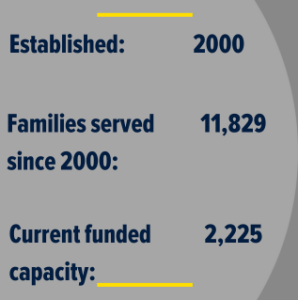 NFP's original site in Guilford County has been operating as a North Carolina charity for two decades, helping first-time moms in the area make the best possible start for themselves and their babies. In 2008, a public-private partnership of nonprofits, foundations and government agencies came together to support and expand this proven, evidence-based program.  Today, Nurse-Family Partnership in North Carolina has an established presence in the state, with fourteen locations serving 25 counties. The partnership of organizations supporting Nurse-Family Partnership continues efforts to expand to more locations.
Over 40 years of evidence show the measurable, long-lasting difference Nurse-Family Partnership makes in the lives of moms and their children. Meet NFP moms and nurses in our video.
The rain was coming down heavily as wind pounded on the side of the house. New mom Mahogany was inside trying to soothe her 3-month old baby boy Josiah. She had just started to get his routine down – knowing when to feed him and put him down to sleep. Tonight, they were just trying to get through the night. The town would soon be underwater.
Click here to learn more about bringing Nurse-Family Partnership to your community.