Today kicks off a special week at Nurse-Family Partnership – National Nurses Week.
As a nursing-led organization, Nurse-Family Partnership has long recognized and celebrated the strength of nurses and the critical role they play in promoting public health and well being. This year, designated by the World Health Organization as International Year of the Nurse and Midwife, we are standing with healthcare partners worldwide in reinforcing our commitment to nurses everywhere – celebrating their tenacity, promoting excellence in nursing practice, and supporting and advocating for a larger, more diverse nursing workforce.
BRAVELY SERVING public health
Today, we face an unprecedented, global public health crisis. It's more important than ever that we lift up nurses everywhere. This pandemic has revealed just how essential nurses are, serving bravely and boldly on the frontlines of public health.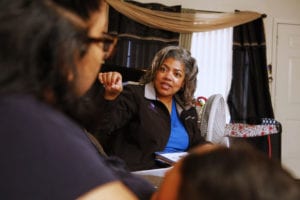 I have always been immensely proud of and inspired by NFP's workforce of public health nurses and their dedication to serving families, no matter the circumstances. But never more so than I have been since COVID-19 took hold in communities across the country. In the face of challenging circumstances, our nurses stood up to protect the safety and well being of the families and communities they serve. While so many of us have watched the events of the past two months unfold, nurses have been writing the story of hope, grounded in humility and caring.
I've found that each mom has different needs, different technologies, different spaces. No matter what moms need, we're meeting them where they are. – Nurse Kim, Detroit
Even after social distancing orders prevented them from visiting families in their homes, NFP nurses have continued to reach and support families, transitioning fully to telehealth in a matter of weeks and continuing to virtually enroll new families into NFP every day. Across the country, nurses, like Nurse Kim of Detroit, are using phones calls and Facetime to stay connected to families when they need it most; providing reliable, trustworthy education about the risks of COVID-19; and connecting them to critical resources, from food assistance to diapers to mental health services.
During a time of great stress and uncertainty, our nurses haven't skipped a beat. Under tremendous pressure, their efforts continue to positively transform the lives of mothers, babies and communities. We stand by them now more than ever, providing them with support not just for their nursing practice, but their personal well being – from enhanced telehealth guidance and connectivity to wellness resources and supports.

with gratitude
As we kick off National Nurses Week and continue celebrating Year of the Nurse throughout 2020, I invite you to join me in shining a light on nursing by sharing a message of gratitude to nurses everywhere– and especially to our very own NFP workforce – for their dedication and unwavering commitment to public health.