There are tremendous inequities in our country – and countless solutions proposed about how to fix them. Families, individuals and especially children experiencing poverty deserve solutions that have been thoroughly tested and proven to work. But with limited resources, the real question becomes – how do we know what's working?
A few weeks ago, three economists received the Nobel Prize in economics for their innovative work to alleviate global poverty. These scholars applied a new approach to understanding and reducing poverty, pioneering an experimental approach in development economics by using randomized controlled trials in the field.  It was especially exciting to see the founders of one of our partners here at NFP – Esther Duflo and Abhijit Banerjee of MIT's Abdul Latif Jameel Poverty Action Lab (J-PAL) – recognized in this way. We've been honored to partner with J-PAL as the evaluator in our South Carolina Pay for Success project.
Learning more about their work, what strikes me the most is the empathetic, human-centered approach these scholars took in their research. They recognized the need to take the time to truly understand the circumstances and decisions that those living in poverty are faced with and to always put the person first.
"…Without spending some time understanding … the intricacy of the lives of the poor and why they make the choice that they make… it is impossible to design the right approach." – Esther Duflo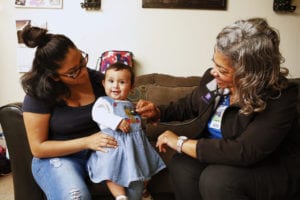 The reality is that poverty is a challenging, complex issue to solve. As we know first-hand at NFP, families living in poverty in the U.S. face complicated challenges – income, food and housing insecurity; domestic violence and social isolation; the list goes on. There is no one-size-fits-all solution. It takes deep engagement, understanding and individualized support to move the needle. In a sense, that's also the basis of our intervention – meeting families where they are; identifying their needs, challenges and goals; and helping them tap into their full potential. We strive to not just be a service provider, but a long-term partner to families building a path out of poverty.
Seeing the work of these scholars recognized in this way also reinforces the importance of rigor in building solutions that can undo systemic problems, and it reinforces my confidence in our evidence-based approach here at NFP – testing new solutions, following the evidence, sticking to what works, and always keeping families front and center.
At Nurse-Family Partnership, we're proud to do our part in this fight, and we applaud the work of these pioneers – and so many others across the world – seeking effective, evidence-based solutions to alleviate poverty.