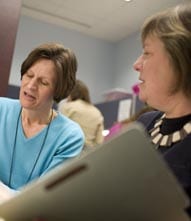 Spotlight on Nurses – Pat's story.
As a community nurse, Pat believed in her heart that the work she was doing—providing preventive healthcare to young mothers in the community—was a powerful way to reach a population in need. But she was also trained in the sciences, and thus appreciated the empirical evidence showing that these home visits could make a real difference. The home visiting model presented in this article lodged in Pat's mind, and as she continued her career as a nurse, she kept tabs on Olds' work.
Fifteen years later, now a field nurse in Chester County, Pat learned at a conference that Olds' program was to be replicated in her state. She went to her supervisor Betsy Walls. "I've been following this program since I was in grad school," she said. "We need to bring it here."
"You write the grant," said Betsy, "and if we get the funding, you can run the program."
Yoder had never written a grant before, but she aced this one. The department received the funding, and the Chester County Nurse-Family Partnership was born in 2001.
Since then, the agency has served over 530 families. Even more impressive are the outcomes of the women they serve: a 25 percent reduction in smoking during pregnancy, a low birth-weight rate and a low preterm delivery rate among adolescent mothers, and breastfeeding rates among the highest in the state. And no clients have been admitted to Child Protective Services for issues of child abuse or neglect. "A lot of public health programs do elements of what we do—educate, assess, promote healthy lifestyles," says Pat. "But what makes NFP different is, we build relationships. That nurse is with that mom every step of the way for over two years. It's an intensive, long-term program. It's a chance to be a positive voice in a young woman's life when she needs it most. We're committed. And it makes a difference."