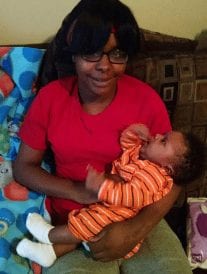 "I look at the Flint River every day and I knew I couldn't do it. It's nasty. They've found diapers and trash and bodies in it."
Throughout her pregnancy last year, Charity, 21, spent money to lug home 10-gallon jugs of water even though she didn't have a car.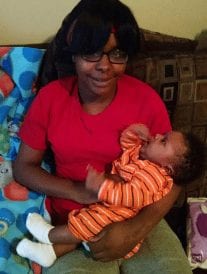 Today, she won't let her 3-month-old son, Xavier, touch or ingest tap water. She uses bottled water to feed and bathe him, even wiping his bottom with water she knows is clean.
Despite her vigilance, Charity remains afraid of lead poisoning and plans to get Xavier's blood lead levels tested.
"I'm terrified," Charity said. "I don't want the Flint water to cause mental problems….I want him to graduate from high school and college and be whatever he wants to be."
As Charity navigates new motherhood in a city facing the nation's most crippling health crisis, nurse Annie Heit is at Charity's side, reassuring her every step of the way.
Thanks to an emergency injection of $500,000 from the state of Michigan, Flint's Nurse-Family Partnership program is doubling from four to eight nurses.
Along with their typical work, nurses in Flint have found themselves handing out water filters, checking to be sure they're correctly installed, promoting nutritional options to prevent lead absorption and doing more frequent developmental screenings to ensure the babies in their care are on track.
Like a medical missionary of sorts, Heit and her husband chose to move from Virginia to Flint about a year ago. The couple wanted to make a difference in an underserved community. Then suddenly Heit found herself on the front lines of an unthinkable crisis.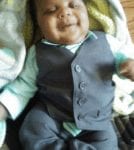 As Mattie Pearson, director of Women and Children's Services at Hurley Medical Center who oversees the Nurse-Family Partnership program in Flint has said, "You would never even imagine this could happen in the U.S. I was raised in Flint. I have grandkids right in the middle of it. Our neighbors and our elderly are dealing with this. You can't even believe it happened."
Lead poisoning is especially scary because it causes permanent damage.
Prevention is key and that's why nurses are so vital.
"We give them information on Vitamin C, iron and calcium. I make sure the water filter is installed
correctly and that they have the ability to get bottled water," Heit said.
Heit, herself, lives in Flint with her husband and 5-year-old daughter. She feels lucky that her home has newer pipes and safe water. But many in Flint fear they will face problems for years. While Heit can't fix the massive infrastructure problems that have led to the crisis, she can ease some of the emotional distress.
"I can't help everyone, but I can help some. It's empowering doing a job on the front lines," said Heit, who currently has 25 clients, 17 of whom have babies.
Both Heit and Pearson say most Flint residents now have plenty of bottled water. What they need is a safe system.
"There's not an easy fix. It seems as though it's going to be quite a few years before all the lines are removed. It's a long-term problem," Pearson said. "Fortunately our nurses are here for the long haul."
Charity plans to stay in Flint since her extended family is there. She wants Xavier to know his grandparents. She's tired of showering in dirty Flint water, but will keep Xavier away from the water and with Annie's guidance, will continue to stimulate his brain.
"He laughs a lot. I read to him. I sing to him. We dance. We have tummy time. We play with toys. We go for walks if it's not too cold. We do it all!"
When worries about lead bother her, Charity knows Annie will soon be there.
"When she comes, she always has a smile on her face. It makes me feel like everything's going to be all right."