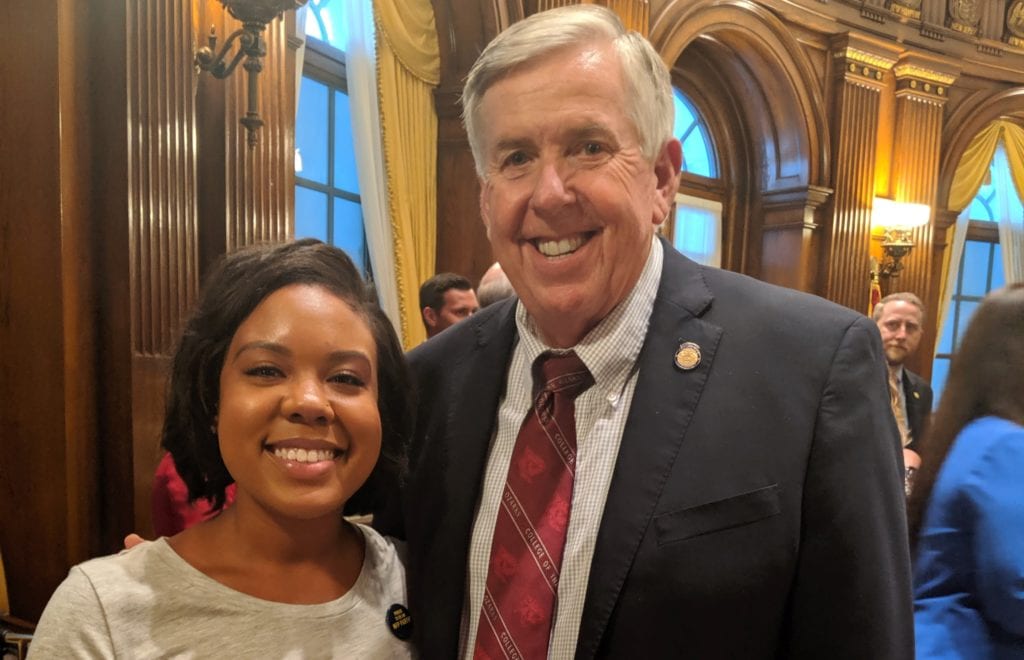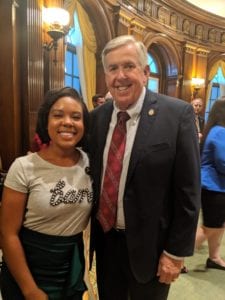 Empowerment through home visitation
March 19, 2021
by Asia Collins-Muhammad,
NFP Parent Ambassador and mother of five
I was 22 years old, working full time, trying to figure out what I was going to do with the rest of my life as a professional, when I found out I was pregnant. I learned about Nurse-Family Partnership ® when I applied for WIC, and that's when I was connected to Lauren, my NFP nurse.
Lauren took the time to find out what was important to me and encouraged me to make choices that would benefit me and my child. Lauren helped me develop a budget and encouraged me to go back to school, amongst other things.
I was born two months premature due to my mother's hypertension. Diabetes runs on both sides of my family, and I knew that maternal mortality was a very real issue – especially for Black women. Lauren understood my concerns and helped me establish a healthy diet. She monitored for blood pressure concerns and diabetes. DeMarco was born on Feb. 24, 2012. We were both completely healthy, and there were no complications.
As a first-time mom, I had questions about pregnancy, delivery and life after my baby arrived. The information Lauren brought me was amazing. It was overwhelming at times, but she delivered information and resources to me that I not only practiced but also passed along to other first-time moms. Having a registered nurse working directly with me and available to me when I had questions or concerns was invaluable to my family.
I didn't know what to expect, having a stranger enter my home and life, but Lauren and I created a bond that is still strong 9 years later. I understood that I could help other women who needed a friend and an advocate, like Lauren was to me. Recently I've helped new and first-time mom's by providing formula, diapers, food and everyday resources. I've been able to connect them with therapists and counselors as well as form community partnerships in order to provide resources they need (like housing, food and baby supplies). I am doing what I can to support women the way I was supported.
Two years ago, I got the opportunity to give back to Nurse-Family Partnership by helping more people learn about the program. I was a part of the first cohort of NFP's Parent Ambassador Program. We were a group of 12 phenomenal women across the country who have all benefited from NFP in a variety of ways. We worked with government affairs staff to advocate at the state and national level, we participated in speaking engagements and shared our stories with people like you in order to help NFP serve more first-time moms.
Today, I am a student and family mentor with Urban League of Metropolitan St. Louis. My job is to go into the St. Louis Public Schools, reach out to families and help with their immediate needs like utilities, housing, food and COVID resources. Just like how Lauren helped me, my families know they can reach out to me for support. Many families need a few resources and they are on their way; other families need long term support through a trusted relationship. The important part is that we acknowledge the difference every program brings and take the time to learn how they can work together to build a stronger system for families like mine.
Being a new mom would have been different without Lauren. My nurse was a health care professional who helped make sure my pregnancy was healthy and successful, but she was also a friend and a mentor. Lauren was my cheerleader. She encouraged me to become more educated about being a mother, and she helped me become a better person.
What mom doesn't need help? There is no handbook that covers everything. Lauren got me through my pregnancy and the first two years of my son's life, and nine years later we're still in touch. Many young women face a variety of challenges — like a family history of poor birth outcomes, health concerns, homelessness, domestic violence, substance abuse, unemployment or a combination of these. Other moms simply need someone in their corner, a professional and a resource. For all of these women, Nurse-Family Partnership is a lifeline. Each time I log into the alumni network at Nurse-Family Partnership, where moms from across the country come together, I hear stories of women from all different backgrounds who have been blessed by their NFP nurse. We are forever grateful to our nurses for the time, energy and love they invest in the moms they serve.
Asia Collins-Muhammad is a 2013 graduate of Nurse-Family Partnership a former parent ambassador. She lives in St. Louis, MO, with her husband and five children. Asia is the Founder of a nonprofit called "I Can Be Your Mama Too" designed to provide single moms with support and resources.
(This story was originally published on Kids Win Missouri.)