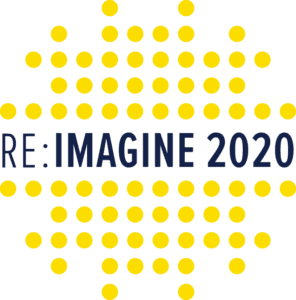 WELCOME TO RE:IMAGINE 2020
NFP is thrilled to announce that, while we won't see your smiling faces in person in Detroit this year, we will gather the entire NFP network for our first ever virtual event –RE:IMAGINE 2020.
One silver lining of moving to a virtual platform is that we have unlimited space, and unlimited tickets for the entire NFP network to attend. For the first time ever, we can have all of you join us. We appreciate each of you being along with us for the ride.
RE:IMAGINE 2020 includes interactive breakout sessions, exciting general sessions, approximately 8 hours of CEUs and some new & unique ways to connect with NFP nurses around the country. Education topics will focus on strategies, frameworks and practice ideas to facilitate Nurse-Family Partnership implementation. Our scheduled speakers have risen to the challenge and are joining us online – including our exciting Keynote Speaker –Bridgett Davis.
We hope to see each of you online on September 21-23, 2020 as we RE:IMAGINE NFP's work in 2020
 Save the Date and Register Today!
Access Code for registration = Tenacity
WHEN: September 21, 22, 23 – 11am-2pm MST
WHERE: In your PJs from the socially distant safety of your favorite couch, porch or desk at home
WHO: The entire NFP Network – since we'll be online, there's no limit to how many of you may join us
WHAT: 3 half days of engaging speakers, group breakouts, crazy contests and approximately 8 hours of CEUs
HOW MUCH: $99 for Early Bird registration (*must register by September 1st for this special pricing)
The first 500 registrants will receive a special RE:IMAGINE 2020 Survival Kit sent directly to you at home – filled with goodies to make your time online more enjoyable
All CEU fees included in your ticket price. Only paid & registered attendees will be granted CEUs.
All tickets must be purchased via credit card, there is no invoice/purchase order option
No refunds will be extended for these seats
Prices go up after September 1, so Register Today!
NOTE: This is not the NFP National Symposium. If you have rolled over your 2020 National Symposium seat to 2021, you must still register for RE:IMAGINE 2020 in order to attend virtually this year, receive CEUs, etc.
Keep an eye on your inboxes for more on amazing speakers, interesting breakouts, CEUs, contests, the contents of those RE:IMAGINE 2020 Survival Kits, etc. We hope each of you can join us for this virtual event.